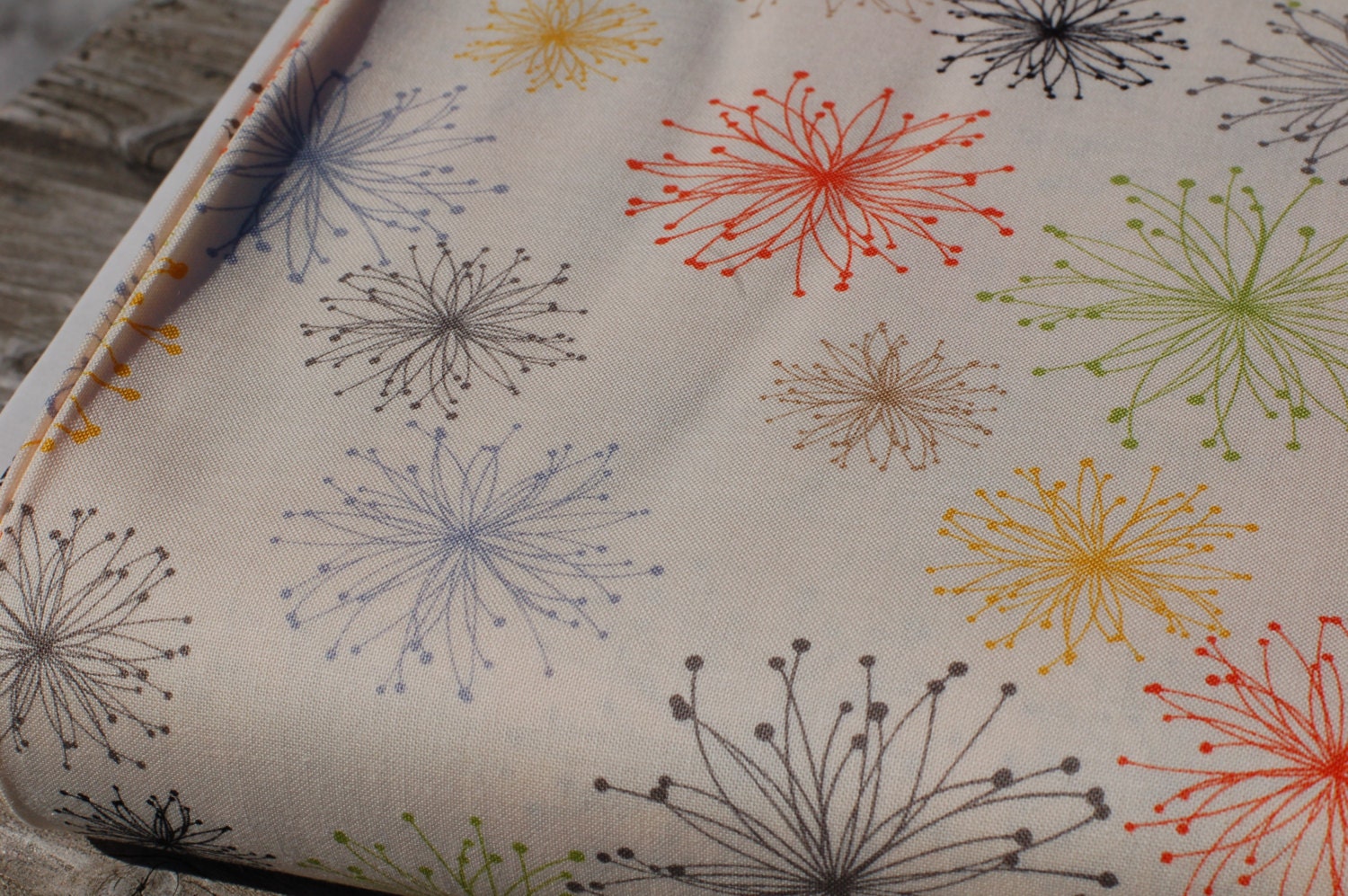 A couple of weeks ago my current line Comma was shipped out to stores and get a warm welcome among the quilters. We here at farbstoff in Germany actually sell the fabrics like crazy and run already out of some bolts (Nigella Multi was the hit).
Seeing what other people are inspired to sew with is in fact one of the best parts of my doing and makes my heart sing.
I'd like to showcase some projects to inspire you too!
This is a supercute quilt using the Moda Candy size of 2 1/2" squares, made by sewsisters. I want one!!!
speaking of circles: this one is called "ring around" by Melissa Corry and it's meant for a little baby.
She even made a cover for a baby car seat from Comma and gives you a tutorial for it.
Another candy charm pack and circle them lead to a table runner on the blog Ifianllyhavetime . Look at these mini hexagons on the borders.
This one from sewpixie at flickr is cool, huh? I like the 74, numbers are always such an eyecather.
My friend Debbie Grifka from Esch House Quilts loves minimalism too and created a new pattern for purchase:
And look at this beauty from Sherry of hiddentreasurecrafts! She just used up some leftoverstrips. I have a thousand of these, why didn't I came up with that idea???
She made also a black and white variation of "Play a card", all three quilts from only one Fatquarterbundle (even a fateightbundle would have done)

Do you love bold Hexagonquilts? There is even a detailed pictured sewing instruction for this one from Sara at modabakeshop!
I personally couldn't resist to this stunning star quilt! That contrast between the white and the prints makes it gorgeous! It's a challenge entry from Bungalow Bay Quilts. Thumbs up!
And these cute blocks from Kathy are still going to become a fresh modern quilt, I can already imagine the look!

Some projects use only a part of the Comma color spectrum, for example the black-gray-white with a single color. Yellow makes a good partner here in the twister table runner made by Quilt Barn.

Or look at that impressive version from emmalinebags. She used only slate and yellow with a hint of chalk in her warm HST quilt. LOVE it!

Are you inspired? I can't wait to get to my sewing machine for a couple of hours and try out what my eyes caught.
Maybe you have an own project made from Comma? I would love to get a link to your pictures in the comments.
Happy sewing,
Brigitte!